Developer tools
For devs, by devs. Built on 13 years of Drupal experience.
Get the most out of Drupal
Build, test and launch new websites faster whilst you stay in full control of all development stages. Developers save time and minimize errors, so they can focus on what truly matters: creating fantastic digital experiences.
Combine the best developer tools for Drupal with Drupal-optimized hosting to ensure maximum peace of mind for all your digital platforms.
Key Benefits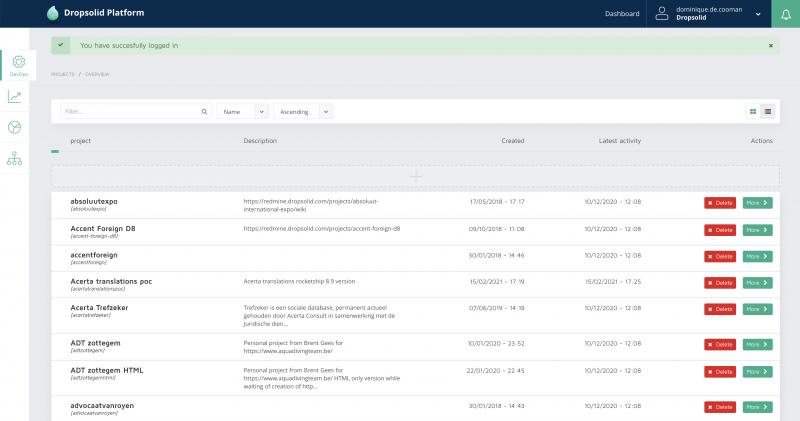 Automated workflows & version management
How it works.
Dropsolid Platform plans a job that can run code in a selected environment. This triggers a series of commands. They all form part of the repositories and can be tested locally.
The build scripts go through a number of different steps, which include removing development modules and the configuration of cache settings.
All progress can be tracked in real-time through Dropsolid Platform or the build log in the dev, staging and test environments - with additional security for your live websites. This allows for faster implementation and better risk management.
New websites in no time
Sit back while you launch a new website: Dropsolid Platform does the hard work for you. Automate the deployment of dev, staging and test environments, repositories, databases and Drush aliases, thanks to a series of install and build scripts.
Combine Dropsolid Platform with our Rocketship Installers to drastically improve your time-to-market for new websites.
Best practices on a single platform
Dropsolid Platform combines an array of features that significantly improve the day-to-day work of developers:
GitLab integration
HTTPS and SSL management
Domain management
Cron jobs
PHP version management
Backups, downsyncs, logs & deployment
Gitlab for changes in the browser & Launchpad local dev tool for local
Full Gitlab support allows you to accept merge requests and add small change through the browser.
A docker-based application that gets every Drupal project up and running on a new machine in a matter of minutes. Dropsolid Launchpad is integrated with Dropsolid Platform and provides developers with the freedom to work locally on internal environments.
Save time: install local environments and start developing immediately.
Maximum compatibility: available on Mac, Linux and (soon) Windows.
Automate tasks: downsyncing, Varnish and Memcached in the blink of an eye.
Dropsolid Experience Cloud in action
Curious to find out how Dropsolid Platform helps your dev work?
out for yourself!
Book your demo or sign up for a 14-day free trial.
Blogs & Cases
Co-sourcing with Boerenbond through Dropsolid Platform, for better results and cost efficiency.
How we installed a Drupal security patch on 1300 sites, stress-free!
How we installed a Drupal security patch on 1300 sites, stress-free!
Improved team productivity for content updates and publishing requests at IOS Press