The Open Digital Experience Cloud for midsize organisations
Get to know your customers for a truly unified digital experience
Dropsolid Experience Cloud, powered by Drupal
All our expertise and best practices are available in one place: the Dropsolid Experience Cloud. The platform is designed around a Drupal core and it acts as the foundation for hundreds of existing digital experiences. Dropsolid Experience Cloud has grown gradually and uses all current technical standards and optimisations, resulting in higher coding and maintenance efficiency. On top of all this, the platform contains a wide range of extra features that enables organisations, developers, marketing teams and digital agencies to derive maximum value from Drupal.
Learn more about Dropsolid Experience Cloud
The know-how of hundreds of Drupal websites, distilled into Dropsolid Experience Cloud.
Smarter digital experiences
Dropsolid Experience Cloud is a foundation for intelligent experiences. A smart platform takes into account business objectives and displays the right kind of content to the right person. Our marketing experience layer does just that.

Dropsolid Experience Cloud recognises traffic patterns and is able to adjust messages to particular visitor segments. This can be done through either the Drupal website or a dedicated marketing automation suite. Detailed dashboards provide in-depth statistics on content performance with each segment. Our unique intelligence layer is a one-of-a-kind application and the only such tool available for Drupal. Our innovations in this field have been internationally recognised and are supported by VLAIO and IMEC.
There's more to it than cutting-edge personalisation, though. We also make sure you get the right insights into all other elements of your Drupal environment. We can improve your Drupal search engine with machine learning and make your Drupal Commerce environment smarter than ever before.
Dropsolid Experience Cloud for organisations
Businesses rely on the Dropsolid Cloud to create added value. It is fundamentally equipped for fast-paced innovation. This stands in stark contrast to the typical, less well-balanced set-up consisting of a CMS, extra modules and additional development and marketing tools, implemented by digital consultants. Our approach has enabled Dropsolid to grow into one of the largest and most efficient Drupal integrators in Europe.
 
The platform's additional features enable our internal developers to work up to 20% faster. The extra time can be spent on innovation and creating business value rather than having to focus on reinventing the wheel time and time again to implement basic functionality and features.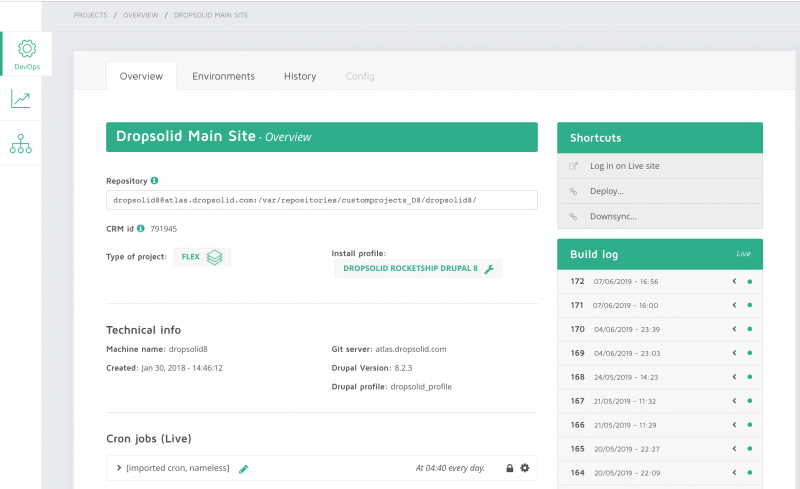 Dropsolid Experience Cloud for developers
The platform contains every conceivable DevOps tool, ranging from local development tools to build and CI features in our SaaS environment for close collaboration. It has never been easier to roll out and manage environments. Dropsolid Platform helps developers to take ownership of a wide number of tasks, including output analysis of build jobs, downsyncing, cron job configurations and domain changes. This allows developers to take ownership of a wide variety of tasks, without the need to rely on infrastructure partners. Make your development faster and less error-prone.
Developers also benefit from our deployment best practices. The platform enforces the right development standards, which allows junior developers to catch on quickly. Check out our series of blogs on config management for examples.
Disruptive agencies serve their clients through Dropsolid Experience Cloud
Are you looking to provide your clients the most efficiënt way to go live with Drupal?
Are you a digital marketing specialist and in need of a technical partner?
Are you competing with agencies and integrators who possess more technology know-how?
If you've answered 'yes' to any of the above questions, the Dropsolid Platform will be an ideal instrument for your business. The platform allows you to play to your digital marketing strengths, whilst you can count on Dropsolid's technical knowledge and the best Drupal platform on the market. This way, you will be able to beat systems integrators and other agencies. Focus on your branding, content, performance and creativity to make a difference - we'll take care of the technical side of things. Combine your strengths and USPs with the power of Dropsolid Experience Cloud to provide unique added value to your clients.
We can also help you with additional services, including employee training, Drupal consulting and integrations.
Marketing and IT professionals: the platform for faster time-to-market
Dropsolid Experience Cloud gives web teams the freedom to deploy their own code, enabling them to match specific business needs faster. At the same time, overhead costs typically charged by full-service agencies can be avoided, leading to significant savings in maintenance costs.
The majority of systems integrators and agencies do not provide their clients with the opportunity to participate in the development process. Should you wish to develop and implement code with your own team, responsibility usually shifts to your team. This poses considerable risks: your teams may very well possess unique in-house knowledge to develop a particular feature, but doing so will place full responsibility for all code on their shoulders - an unacceptable business risk.
Dropsolid offers the best of both worlds. Dropsolid Experience Cloud provides application and infrastructure support along the entire development journey - including if your team members deploy code to the live environment. Should any issues arise during the process, our experts are at hand to help your team get back on track.
This approach pays a double dividend. You can focus on your strengths and provide the necessary input, whilst Dropsolid guarantees your environment's security, stability and uptime. Your codebase remains healthy: of this you can rest assured, thanks to our platform and frequent updates. We train your employees and together we act as a team, improving performance and reducing overhead. A true difference-maker.
Times have changed. Today's teams collaborate closely together with their technical partner to improve code, whilst they share their learnings and deploy code together. If your organisation is located in Belgium, we will be happy to share this journey with you and deploy our Dropsolid team for your projects. Are you based out of the Netherlands or elsewhere in Europe? Have a look at our partner page. Our foreign partners will be happy to collaborate with you on the Dropsolid Platform.
The best digital experiences are customer-centric
Customer experiences come in all shapes and sizes, and they cater to a wide range of different stakeholders, including end customers, suppliers, employees, citizens and organisation members.
Dropsolid Experience Cloud is designed to build customer-centric experiences. It provides mid-sized businesses and organisations with the right tools to deliver a truly unified customer experience.
Organisations that invest in a digital experience, see their Customer Lifetime Value increase. Attracting new customers becomes easier and existing clients can get served more effectively through a digital platform. The more users you serve through your digital experience, the higher your net return on the platform!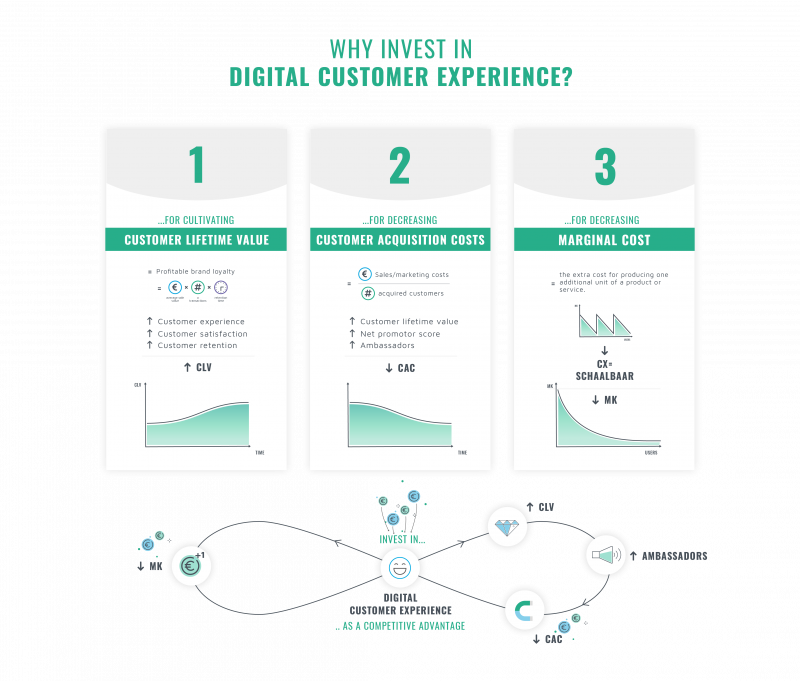 Dropsolid Experience Cloud, based on Drupal, allows you to expand your IT infrastructure with a so-called experience layer. This layer enables you to connect with stakeholders in a myriad of different ways. Websites, multisite, intranet, extranet, commerce, applications, voice search, VR and AR,... The list of potential interfaces goes on and on.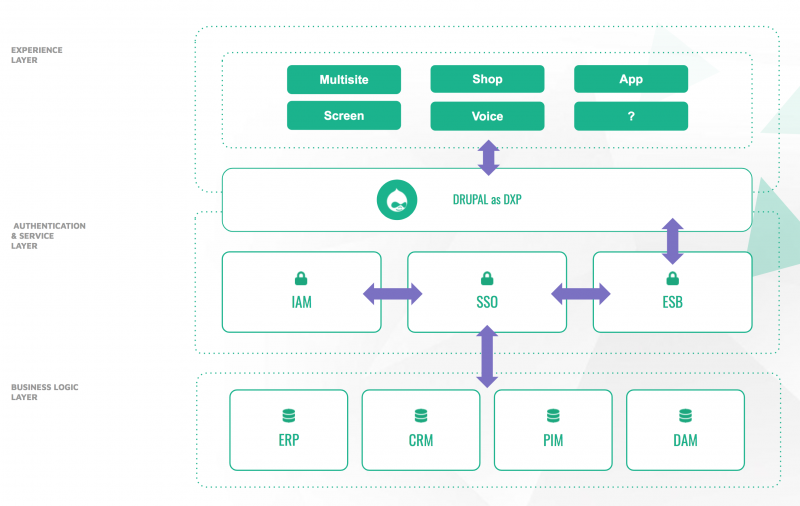 The technical set-up is designed to unlock data lightning fast. This results in better collaboration, faster communication and a broad customer experience as a result.
The Dropsolid Platform enables you to build any interface you can think of, for any stakeholder.
The best digital experiences are multichannel. With Drupal, you can save all content in a central location and push it to multiple channels at will. Drupal websites are interactive and can be experienced in Virtual Reality. Our omnichannel VR demo is a must-see at events! Or simply get in touch to see for yourself.
An ecosystem of applications: stay ahead of the game
Our Digital Experience Platform sets the standard for future digital experiences. Organisations are increasingly looking for ways to connect with all their stakeholders through a single platform - and that is exactly what our Dropsolid Platform delivers on.
Gartner defines a digital experience platform (DXP) as an integrated set of core technologies that support the composition, management, delivery and optimization of contextualized digital experiences. DXPs place a high degree of emphasis on interoperability and cross-channel continuity across the entire customer journey.
According to a recent Gartner study, today's core capabilities of a digital experience platform are as follows: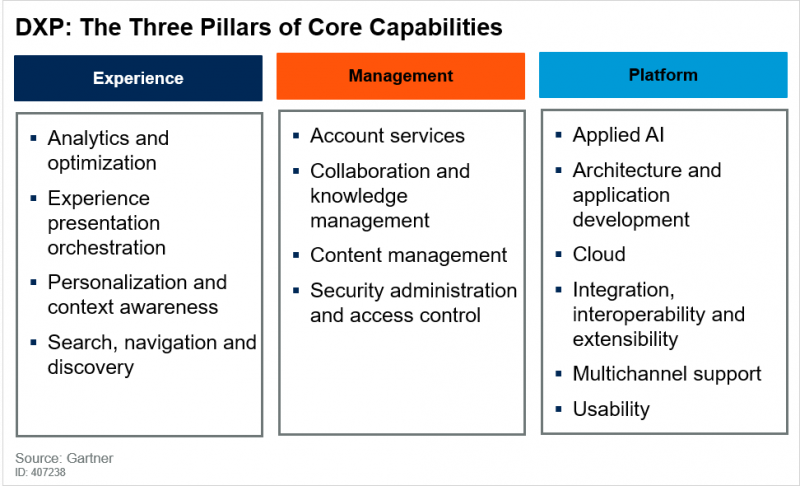 Our high-performance Digital Experience Platform is strongly rooted in the three pillars above. Thanks to its vast module library, Drupal contains plenty of crucial features and technical capabilities out-of-the-box. The Dropsolid Platform adds to Drupal's well-documented strengths with unique features and insights of its own. This leads to a combined advantage:
Your Drupal environment will always remain your property. You have the freedom to make improvements to your platform and use it as you wish.
You are free to choose your systems integrator.
Drupal stays on top with innovation, enabling continuous growth of your digital experience.
Specialised hosting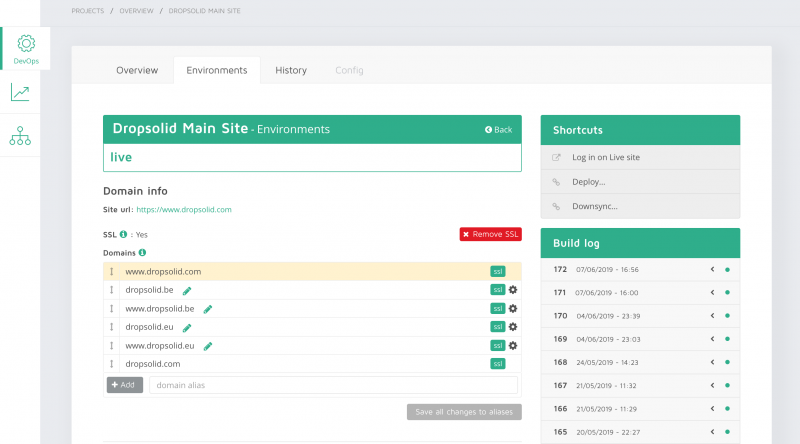 The Dropsolid Platform is optimised for Drupal hosting. Both on-premise, private cloud and public cloud hosting (Google Cloud, Amazon or Azure) are possible.
Our extensive experience with Drupal for both hosting and infrastructure have enabled us to tackle even the largest traffic and hosting challenges. Ou SLA applies on both application and infrastructure levels - including if your teams are active contributors to the code. This service is unmatched by any other hosting party, agency or integrator.
Multisite capabilities
A considerable number of our clients use the Dropsolid Platform for their multi-site management. Organisations in charge of multiple brands, products and applications need a fast and efficient way to deploy new websites and organise their existing environments. The Dropsolid Platform provides complete control.
Examples:
Accent Jobs. This fast-expanding recruitment agency has recently expanded its portfolio through acquisitions. All subsites can be managed easily through the Dropsolid Platform.
IOS Press. An organisation responsible for hundreds of publications worldwide needs to be able to deploy new websites quickly
Gezinsbond used the Dropsolid Platform to deploy a staggering total of 900 websites.
The open Digital Experience Cloud, built on Drupal
100% Drupal
Built around an open source core, playing to Drupal's full potential.
FOCUSED ON MEDIUM-SIZED ENTERPRISES
The platform of choice for digital experiences at mid-sized businesses. We've built over 500 digital experiences on Drupal for all types of organisations, so we can detect potential pitfalls early and build the best experience for your business.
MORE THAN JUST HOSTING
Around-the-clock monitoring, updates, workflows and an application and infrastructure level SLA.
THE OPEN PLATFORM
The freedom to build any digital experience you can imagine. The Dropsolid Platform is built on an open core that is yours forever - in contrast to proprietary SaaS. Expand your core experience with additional hosting, support and other products and services.
From content management to digital experiences
Getting to know your customers and responding to their demands requires a unified digital experience. This experience needs to be coherent and consistent across all channels - every time, and for every single visitor.
Dropsolid Experience Cloud goes beyond integrations of web portals and tools and provides an harmonised browsing experience to your visitors.
Our open platform based on th Drupal CMS unites the best of two worlds: centralised website management and open integrations with new or existing best-of-breed applications and software that you rely on for your business success. This creates a considerable competitive advantage.
More and better business
Smart organisations work every day on getting to know their customers. To achieve this, they rely on smart tools and applications, which provide data that can be aggregated for analysis and further improvements. The open Dropsolid Platform acts as the glue that makes all your applications communicate their data with each other.
As a result, companies can manage their content and data more efficiently and it allows them to adapt their digital strategy to deliver the best digital experiences on the market. Companies use Dropsolid Experience Cloud to create leverage that improves their company strengths.
An open platform allows for a unified digital experience and provides competitive advantage.
Key decision points
Dropsolid Experience Cloud is relied on by companies who:
 
Want to stay in charge of their own data whilst building data bridges with new application,
Feel the need to break free from technical limitations set by their proprietary software suppliers,
Require a fast time-to-market for now business ideas,
Are aiming for improving their Total Cost of Ownership (TCO).
Open platform
Dropsolid Experience Cloud for digital experiences is built on the foundations of the Drupal content management system. Thanks to our strategic guidance and support, companies can enable the exact features they need: ranging from innovative, lean and mean business ideas to fully-fledged personalised experiences. Digital experiences have moved beyond simple integrations between websites and tools: the Dropsolid platform can be used to design a fully functional, expandable ecosystem that unites digital content management with all other applications in your technology stack.
We build our digital experiences using three main components: the Dropsolid Platform as a technical backbone, our Integrations and Development team for all development work, and the Performance team for KPI monitoring and continuous improvements. An open platform generates more and better business, and that is ultimately what counts.
A Digital Experience Cloud for your business case
Looking to build your own digital experience through Dropsolid Experience Cloud? Tell us more about your business case.