12 Oct
From Drupal 7 to Drupal 8 & Drupal 9
At Dropsolid, we spend a lot of time to build your web experiences. Back in the day we decided to do this in Drupal. 
At the time that we decided this, the best CMS to build these digital experiences was Drupal 7 by far. The system had everything you could dream of to develop and deploy websites which were both powerful and flexible. However, time and technology are moving on and the users of websites have more demands today than they used to have.
That is why we switched to Drupal 8. The newest Drupal system has been out for a while now and it has everything you need to meet today's digital demands. According to the release schedule Drupal 7 will be supported until November 2021. Today we are October 2018. 
That leaves us with 3 more years to think about the evolution of your web application. We can also see that Drupal 9 will be released somewhere in 2020. 
Does that mean you should wait to upgrade straight from Drupal 7 to Drupal 9? 
No! Read on to discover why.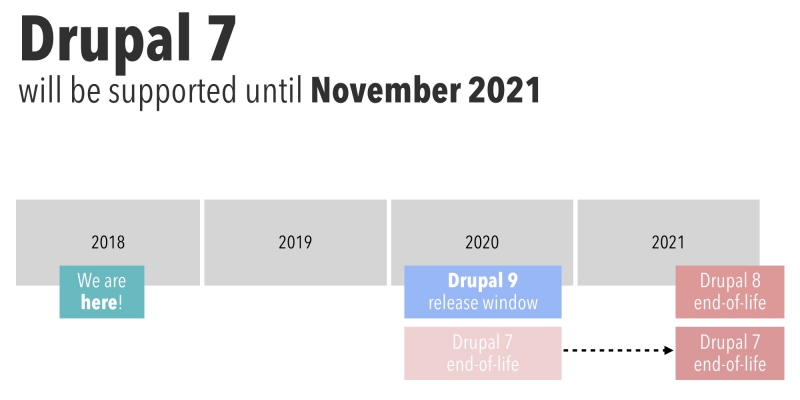 Stay on Drupal 7 while also updating your PHP version 
If you stay on Drupal 7 until after 2021, you can either engage a vendor for a long term support contract, or migrate to Drupal 9.
Migrate to Drupal 8 by 2020
This way you will make it easier to update to Drupal 9 when it is released.
Stay on Drupal 7 and wait on Drupal 9?
You can decide that your business does not need any additional investments in your web experience for your customers and visitors and that you can keep things as they are for some more years. 
That means you will have to make some expenses for your website to make it compatible with PHP 7.2 by that time, as all other PHP versions will no longer be supported. 
At the end of January 2021, you could get problems as Drupal 7 will no longer be supported officially, so this means there will be no more updates to support PHP 7.3 as well.
Another decision you could take, is to acknowledge your website no longer needs any editing. You could convert your website to a static repository. If we look at that from your business perspective, you will leave yourself very vulnerable for competitors to overtake you.


As Dropsolid, we want to make the situation very clear.
From November 2021 you are on your own. 
Your hosting provider won't be able to support you anymore
Your application vendor won't be able to 100% reliably say that they can help you either. If they do, they are keeping you in the dark. Unless they have a contract and if they are one of the long term security vendors. 
Migrate to Drupal 8 by 2020
If you are on Drupal 8, you just have to keep your Drupal 8 site up-to-date and you'll be ready for Drupal 9. - Dries Buytaert, founder van Drupal
Given this statement from the Drupal founder himself, you could start your migration today. 
As soon as your website is on Drupal 8 and gets regular updates, a future migration to Drupal 9 and beyond will not be rocket science.
The world and the new technologies in Drupal 8 are so advanced and flexible that you can hardly compare them to the older Drupal versions. Drupal 8 allows you to integrate with mobile phone apps, Virtual Reality applications, e-commerce, concepts like  smart shoes, store billboards, … and those are only a few examples.
Any kind of digital journey will become possible, and that is where the next generation of the web is going to. Our advice is to get your business ready for that. Your online users are getting accustomed to switch from their mobile phones to other devices, to the smartwatch and back to the phones that they will start to ignore or discard sites that are living in the past. 
As Dropsolid, we will start reaching out to you as a customer to switch to Drupal 8 and provide you with all the digital possibilities you need for the near future. You are not a customer yet but you are interested? We are also happy to take on your Drupal 7 project to start with and then continue this conversation with you.
Contact us now if you are interested in hearing what is possible with Drupal 8 and why you should care now! We have a whole ecosystem for you.