19 Jan
Making corporate email work - and arrive!
Email is an ancient technology by internet standards - you could even say the method has its roots in the 1960s. In this post, I'll be focusing on the more recent standards, which date back to 1995. No doubt that the people at your company send a whole bunch of emails every single day. Next to this daily flow of human-generated communication, your assets such as your website or internal ticketing system are also sending emails. Unfortunately, your messages do not always arrive.
To analyse how this could be possible, let's take a look at how email actually works:
As you can see, it's rather complex! Mainly the little red dotted circle in the centre of the above image is a black box that causes many emails to get lost in cyberspace. Detecting spam is not an exact science. No wonder that many business tend to stick with paid subscriptions to MailChimp or related services to make sure their emails newsletters arrive. At Dropsolid, we host over 1000 environments and each and every one of these environments sends out emails in some form or another. These could be registration forms, purchase orders or contact forms to gather more information. Losing even one of these emails in cyberspace could prove highly problematic, so we should do as much as we possibly can to make sure our messages arrive consistently and in time.
We decided to fully embrace SendGrid as our email relay, so that we can get a good overview on how many emails we are sending and to have a good way to diagnose problems if they appear. Currently, Dropsolid sends +-40.000 emails a day from all the various services.

Unbeknownst to the IT team, our marketing department was facing an email issue at the same time. We needed to send a high volume of emails to our customers in a flexible way. Some of those emails are promotional emails, others are service status notifications. So we joined forces and built a system that leverages the sendgrid capabilities of our servers + all the optimizations that we can do in order to fully qualify our domain for optimal delivery of our email.
In a very short time span, we developed a simple yet efficient web application using the JavaScript Angular framework. It allows us to save unlimited contact lists and HTML email templates, and it communicates with SendGrid to deliver a specific HTML-template to all email addresses in the chosen contact list. Essentially, we created a mini version of email marketing services like MailChimp or Flexmail - all through a swift joining of forces between our marketing team and IT and R&D departments.
After testing the system for the first time, we noticed the mails were scoring rather badly on spam tests: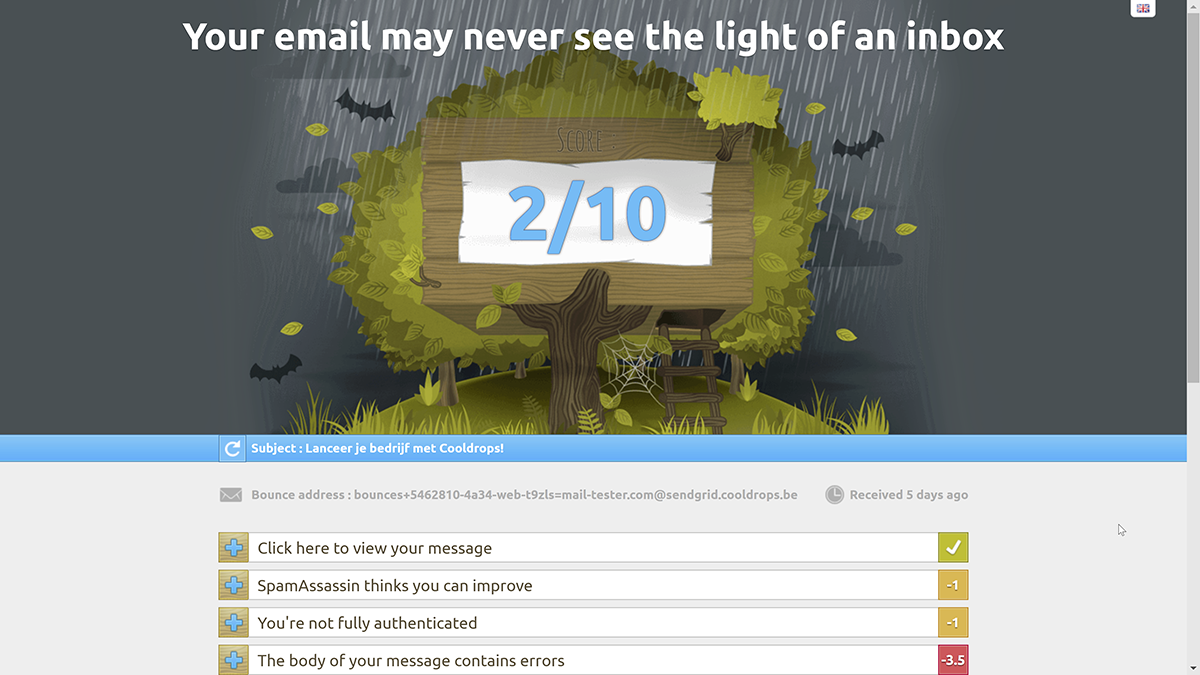 This could be traced back to a few different content-related causes. For example, our emails contained only an HTML version of the template. Spam filters like to see a plain text alternative, so we implemented multi-part MIME messages to make sure both HTML and plain text versions would be available at the receiving end. We also checked the HTML markup validity of our template and ensured we only used one or two hyperlinks. In addition, we added a 'List-Unsubscribe' header so email clients would be able to show an unsubscribe button in their user interface.
Next to this, we also needed to verify our domain on the network side, so that SendGrid would be able to manage our SPF and DKIM settings for us. SPF and DKIM are technologies that augment this old technology that we call email, so that there is more certainty on how sure the recipient can be that his email originates from a valid and trusted source. Setting this is not a safeguard that all your emails will arrive. 
We validated the email once more, and this led to much better scores already!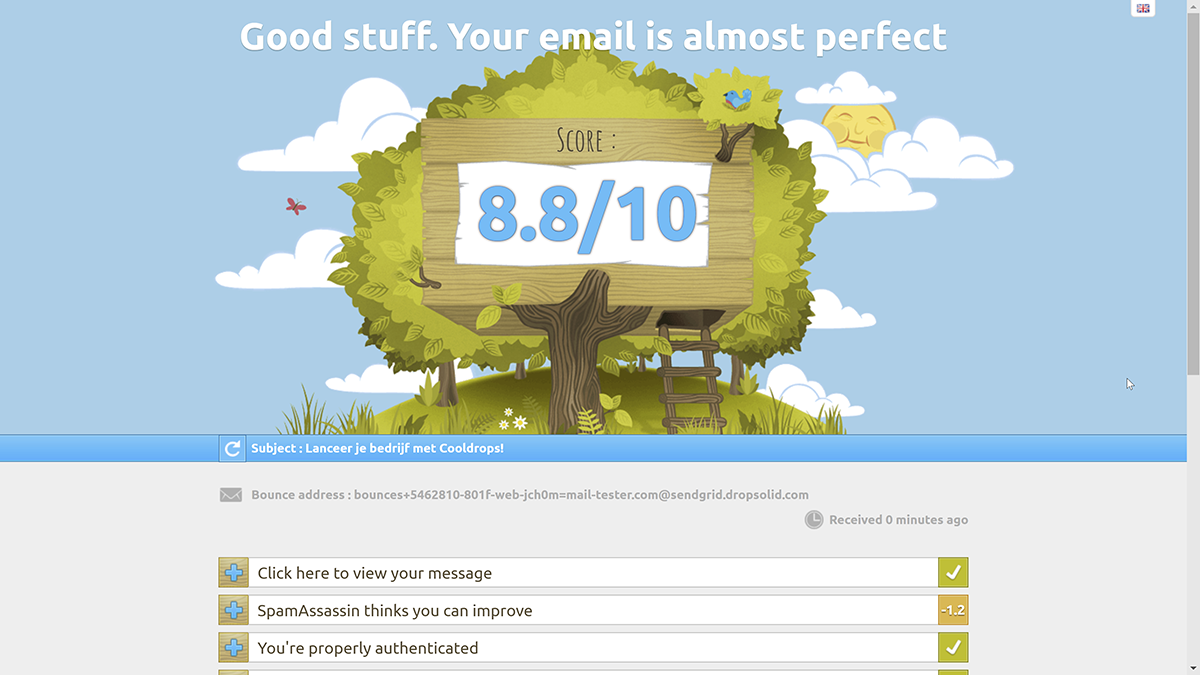 Only one tiny problem left: Microsoft Outlook users were still not receiving our emails… 
To solve this, we purchased a dedicated IP address with SendGrid to make sure that email servers do not confuse our emails with potential other senders that send malicious email through SendGrid. That did the trick - hurray! All the email clients now successfully trust that the email that came in their inbox is truly legitimate and worth showing up in the recipient's inbox. 
The combined efforts of our system engineers, R&D and Marketing brought the best of both worlds. This fresh piece of creativity now benefits customers that host on our platform and it benefits our own internal marketing as well.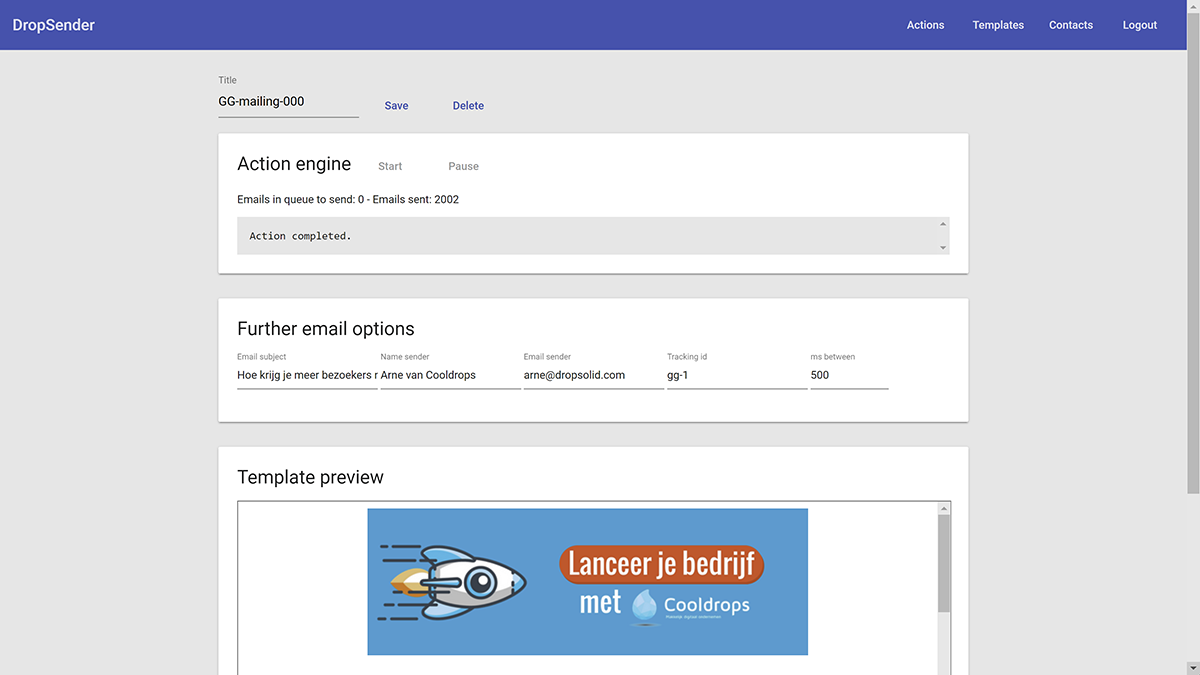 On top of that, Sendgrid also offers the possibility to extract statistics from these different campaigns or from the email system as a whole. Detailed email insights are crucial - not only for your own sanity and corporate reporting, but most importantly when you are involved in designing sales and marketing funnels that revolve around lead generation through e-mail follow-ups. Every mid-market company is working on the implementation of digital conversion funnels as part of their business model, and we have yet to see the first company that doesn't use email as a crucial part of their strategy.