21 Feb
Moving beyond CMS, enter DXP. An Open Source Approach.
We are proud that our CTO Nick Veenhof is one of the keynote speakers at Drupalcamp London 2020. Nick will shed light on how to build an Open DXP and what opportunities it will bring.
Websites are not enough. Business these days are required to deliver highly personalized digital experiences to their stakeholders to remain competitive, and need to adhere to consent management and the GDPR rules, within a reasonable cost. The discontinuation of the CMS magic quadrant in favor of a DXP magic quadrant confirms this trend. When moving beyond CMS to DXP, what does this mean for Drupal and what are your opportunities?
Who is Nick?
Nick Veenhof is CTO at Dropsolid. Nick has been involved in the various Open Source communities for over 13 years. He's also passionate about cloud infrastructure and devops philosophies.
I will share my insights into what defines a DXP and how it translates to a technical solution
He's advocating Open Source and especially the Open Source project Drupal. Drupal, Apache Solr and more crossed his path during his studies and took up a significant part of his career when he started to use it for professional purposes in several Drupal- and product focussed companies like Dropsolid and Acquia.
"I will share my insights into what defines a DXP and how it translates to a technical solution. We'll discover some of the possible components together to create an Open DXP with Drupal, Mautic and Apache Unomi at the core. The session includes a technical deep dive into Apache Unomi, and a practical approach to learning from your visitor data and using AI and ML to enhance your Drupal sites with real-time personalization. We'll highlight how adding marketing automation to this mix makes this a great Open DXP platform."
What does it mean?
Garner will be replacing its CMS quadrant by a DXP quadrant due to the increasing quality and importance of the customer experience that can be provided. But what exactly is a DXP? 
A DXP is a Digital Experience Platform, it can be described as a CMS with additional personalisation and customer journeys. Gartner explains it as the the pillars of core capabilities as seen in the image below.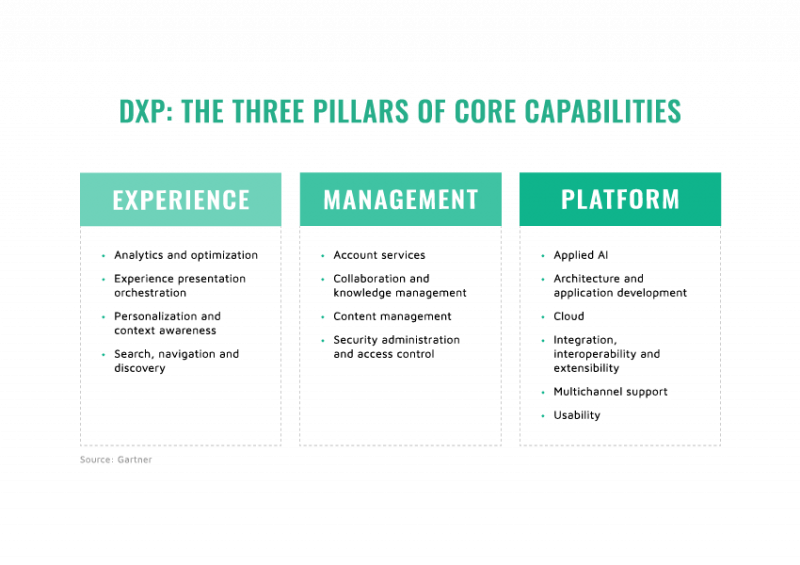 Until today we used Drupal CMS to control and deliver content, now we added a user dimension to optimize the digital experience. This gives Drupal a large amount of opportunities by adding different open source tech. 
The challenge
The challenge for marketers is simple; provide the best content for each visitor/ lead at every moment of the day. This can be done by using the following tools:
Drupal: CMS (open)
Mautic: marketing automation (open)
Unomi: customer data platform allowing to build unified customer profiles and segments (open)
AI/ML: consume all interaction and customer data and predict smart segments
By using these tools marketers have the opportunity to work in the most efficient way and deliver the finest customer experience.
Can't make it to London? You can also find us from the 6th until the 10th of April at the Drupal Dev Days in Ghent..
Get your tickets for Drupalcamp here