Non-governmental Organisations
Unified digital Drupal platform for Touring
Touring is a leading player in travel and roadside assistance that positions itself as an all-round mobility partner. The organization provides services to over 3 million members. With over 700,000 annual responses to requests in Belgium and hundreds of employees, streamlined online and offline processes are key.
Challenge
Touring's digital presence consisted of a Drupal environment. It was no longer up-to-date with the appropriate security and integration standards. In addition, the existing infrastructure was not ready for Touring's digital roadmap for the future.
After a failed migration project with a different partner, Touring called upon Dropsolid for a full overhaul of their company website and their online environment for processing roadside assistance requests.
The earlier delay, resulting from the cancelled project, added a challenge to the established time frame for project delivery. At the same time, the new environment would have to be future-proof and ready to take on new challenges in a highly competitive market. A comprehensive digital strategy would prove to be crucial.
Solution
The Dropsolid strategists and Touring's team set to work on a Drupal-orientated architecture. They decided to build a new corporate website and build the entire Drupal 8 environment using a so-called headless architecture. This would allow Drupal to act as the middleware that could integrate all of Touring's existing applications.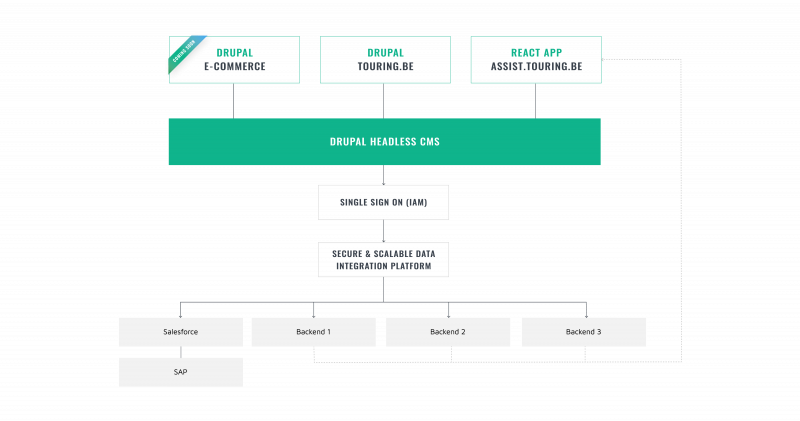 Touring's corporate website was migrated to Drupal 8, including support for customer authentication for future self-service applications online. In addition, improving the customer experience was another focal point. This included:
Faster loading times,
Smoother browsing experience on mobile devices,
Implementation of a map providing real-time traffic updates,
The existing Touring Assistance application (React app) is integrated in the same architecture. This app allows members to put in a roadside assistance request through the online platform. Behind the scenes, the platform is now fully equipped to handle incoming requests in a fully automated way, in some cases without any need for manual intervention by the call centre staff. 
That will result in less overhead and more focus for Touring employees as well as a faster service for the consumer. Win-win.
The next step? Adding an online sales environment. The same idea is continued here: a fully integrated digital platform that allows consumers to complete new applications online at any time of the day.
The digital environment that makes this possible, was built using open source technologies, avoiding recurring license fees.
Result
This targeted approach led to delivery of the project in a mere seven months. There was no more reason for concern about potential security issues or downtime - both crucial factors for an organization that is almost entirely reliant on a fully functioning platform to provide its services.
Massive reduction of unexpected downtime
Improved SEO and findability of website content
Thanks to Drupal's open architecture, Touring can now easily execute on new projects to fit its digital strategy. Time-to-market for new applications is also drastically reduced, eliminating the need for complex custom integrations or expensive, time-consuming processes. This allows Touring to focus on its core business whilst staying on top of trends and changing mobility needs. Key advantages:
Future-proof architecture
Lower CTO through ease of integrations and elimination of license fees on proprietary software