MautiCon, the very first global conference for Mautic enthusiasts. We probably shouldn't tell you that this event was also 100% virtual. You know, 2020. Nevertheless, we can certainly speak of a very successful first edition. With no fewer than 51 speakers from the various corners of the world, there was a well-filled program ready. And thus also a great opportunity to bring together this worldwide community for the very first time.
Relive Mauticon 2020? Rewatch our Dropsoliders webinars in the links below.
Our speakers
Dominique De Cooman | Creating personalised, digital experiences in Mautic.
Our CEO and Co-founder will teach you the importance of an outstanding digital experience, and the advantages of a Digital eXperience Platform for your CMS.
Nick Veenhof | Open personalization with Apache Unomi in the strict GDPR-era.
Nick Veenhof, our CTO, takes you through an exciting webinar on digital personalisation in times of strict GDPR legislation.
It was that time again... Rising figures, stricter measures and canceled events. Fortunately, this does not make Drupaljam small... on the contrary! The organizers reinvented Drupaljam in record time. With an expanded program, 100% online and - wait for it - completely free!
Our speakers
Dominique De Cooman | Make your Drupal a DXP to stay relevant.
Our CEO and Co-founder will teach you the importance of an outstanding digital experience. The medium of choice? A Digital eXperience Platform. You create a relevant and personal experience, get more satisfied customers and that in turn has a positive effect on your turnover. How do you do this? You will find out in the session!
Nick Veenhof | Open personalisation with Apache Unomi in the GDPR-era.
Nick Veenhof, our CTO, takes you through an exciting webinar on digital personalisation in times of strict GDPR legislation. The technology of choice: Apache Unomi. Curious how Open Source makes this possible?
Brent Gees & Wouter De Bruycker | Drupal SEO pitfalls and how to avoid them. 
SEO, a small abbreviation with so much impact. Brent Gees, our Drupal architect and trainer, will immerse himself with you in the world of Search Engine Optimisation. Specifically applied to Drupal websites. The pitfalls? You will not fall into them anymore!
This Drupalcamp London was an exceptional edition, at a time when social life in Europe was at a standstill due to the breakthrough of the COVID-19 virus. A small team was still present in London. Several of our speakers were given the opportunity to give their presentations remotely.
Dropsolid speakers:
We were proud to be the only European Diamond Sponsor at DrupalCon 2019. With our presence, we also wanted to make a difference. So this is what we did: at our booth, all attendees could fill out a short questionnaire. For every participation, we donated 15 minutes of Core Contribution time to Drupal. And we are enthusiastic about the result: we donated 37 hours of development time to Drupal core!
With a large team of digital consultants and developers in Amsterdam, we had many conversations with different people in the Drupal community. We listened to their challenges and how they plan to tackle them. Our experts organized 4 sessions, each with their own expertise and background. All sessions ultimately contributed to building the ultimate digital experience.
Dropsolid speakers:
Stop Buying Drupal Websites, Buy Open Digital Experiences to Increase Customer Lifetime Value
Dominique De Cooman, Founder and CEO of Dropsolid,  spoke about the difference between Durpal as "CMS to manage a website" and how Drupal can Be used to build complete Digital Experiences. 
 
The Battle of the Local Development Tools [Panel Discussion]
Mattias Michaux, Drupal Developer and DevOps Engineer, was on a Panel about the value of local development tools.
 
Machine Learning: Creating More Relevant Search Results With "Learn To Rank"
Nick Veenhof, CTO Dropsolid, gave the opening session on Machine Learning. More specifically, how to use it to improve your internal site search.
 
Drupal SEO Pitfalls and How To Avoid Them
Wouter De Bruycker, SEO Specialist and Brent Gees, Drupal Architect, explained how Drupal can be the perfect basis for SEO, as long as it is cleverly designed. A session full tips & tricks!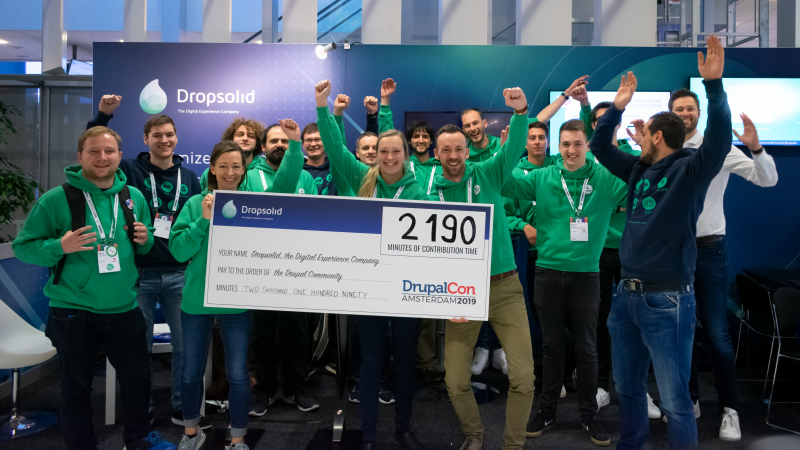 DROPSOLID LUNCH EVENT: 'FROM WEBSITE TO DIGITAL CUSTOMER EXPERIENCE' - SEPTEMBER 26 2019

Bloovi together with Dropsolid organized this event at rooftop bar Gaston in Ghent for decision-makers in IT, business, and marketing. Our CEO Dominique introduced the event with his talk on how a digital experience can give your company a digital advantage. Next, Danielle Jacobs, CEO of Belltug, explained how digital transformation is an ongoing process that will never be finished. Finally, in the afternoon Wouter and Sven explained the importance of Design Thinking within the context of Digital Transformation.
Aftermovie of the event:
DRUPALCAMP GENT - NOVEMBER 23-24 2018
DrupalCamp has been the annual highlight of the Drupal community in Ghent for some time now. With Dropsolid we have been helping with the organization of the event for years. Not only through sponsoring, we also brought our own booth and some colleagues provided inspiring sessions on recent evolutions in Drupal.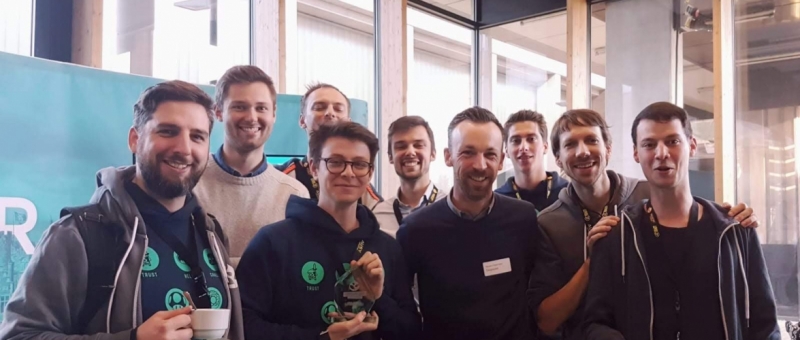 FRONTEND UNITED UTRECHT - MAY 31 - JUNE 2 2018
Frontend United takes every year place at a different location in Europe, and its main goal is to bring frontend-developers, designers, and Drupal-themers together for a few days to inspire each other and fill their brains with new insights and knowledge. Our Dropsoldiers Rembrand & Ruben were present and were able to learn a lot from their fellow developers.