Dropsolid's vision, mission and values
Mission of The Digital Experience Company
Dropsolid guides companies, governments, and organizations to get the best digital version of themselves online with all editing freedom.
Organizations, governments, and companies are all in need of a digital experience. They are looking to place their members, customers, citizens, patients, suppliers, employees, ... in the central and serve them in a personalized way.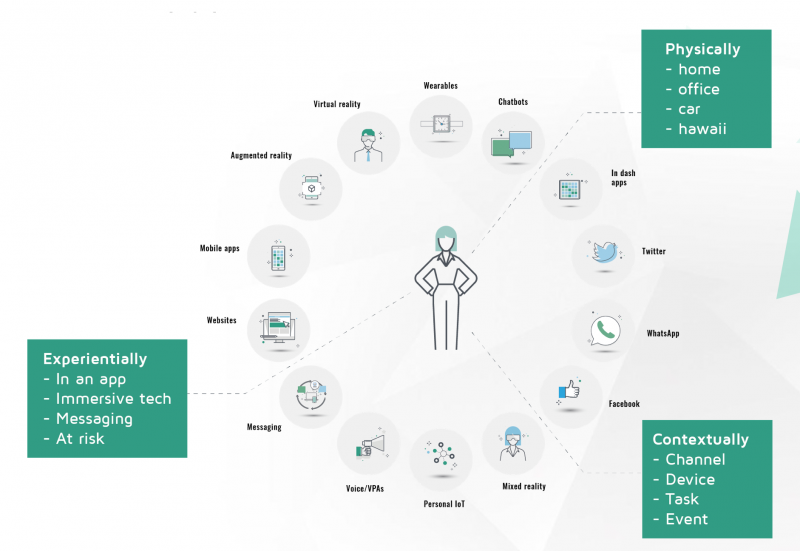 Dropsolid guides ambitious companies and organizations on the path to the best open digital experience with Drupal at its core. It enables them to connect with their stakeholders.
We believe that doing this in a digital way is the most cost-efficient and sustainable way. Digital platform benefit from decreasing marginal cost because it doesn't matter if there are 1 or 1 million users on the platform.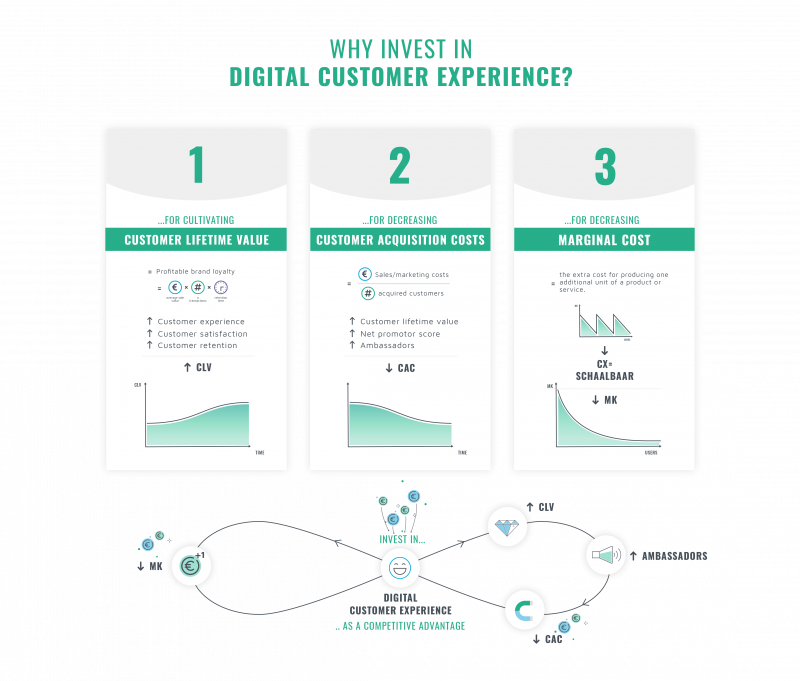 Dropsolid believes in a full-service offering around achieving the best digital experience. The whole chain of services needed to achieve the best result has grown from the more than 15 years of experience of the founders and their team of managers and experts. In each field, Dropsolid has teams of professionals:
Strategy
Design thinking as the basis for a strategy that will last for years.
UX & Design
Put your users first. Provide optimal journeys and intuitive design.
Implementation
Co-sourcing or outsourcing everything? Our Drupal experts are here for you.
Platform
An open-source DXP (Digital Experience Platform) guarantees freedom and the best total cost of ownership.
Optimalization
Get valuable insights from your data, and serve your visitors even better. 
Platform
Dropsolid believes that organizations should be free to build their digital experiences. That's why Dropsolid has launched a digital experience cloud that allows our customers to build the components of a digital experience: CMS, commerce, marketing automation, personalization, AI, and BI with open source technology that Dropsolid hosts and supports for them in the cloud.
This vision is unique in that, as a client, you can have the components of your digital experience platform hosted, supported, and evolved so that you still retain ownership of the core systems and the data that the core systems generate.
We have Drupal for CMS, Mautic for marketing automation, and Unomi for personalization. The platform offers a DevOps platform to easily develop on top of these technologies. The platform provides additional intelligence via dashboards, interfaces, and machine learning to ensure that you can build the right segments based on your users' data with the goal of using these segments to personalize the digital experience.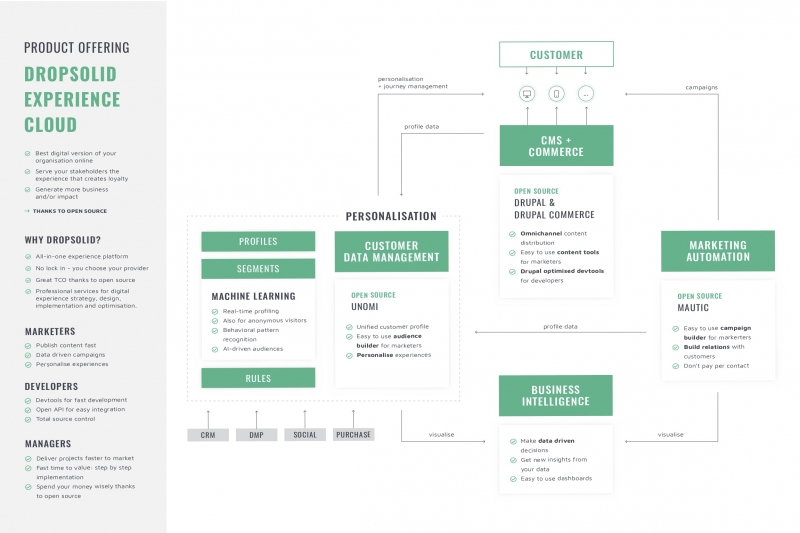 Vision
Our vision is 'Creating value, time & freedom'
We want to give you extra value by sharing our knowledge and creating freedom by letting you decide what to do with your software or strategy. This creates time, which you can use to focus on your business and further develop it.
This open way of working, fundamentally differentiates us from our non-open source competitors. We believe that as a customer you always deserve the freedom to decide who you work with.
Furthermore, we see that investing in digital ensures that the company frees itself from repetitive tasks, can employ people more humanely and can connect much better with their stakeholders for whom they can generate more value.
Every year we write down our vision for the coming year. We did the same in 2021. Delve into the vision of our CEO Dominique or The Tech vision of our CTO Nick. Do you like to step back in time with us?
You can read the vision of last year here: 2020
Our Values
Dropsolid is based on 5 core values:
Trust 
Help
Challenge
Grow
Enjoy
These five values apply to both customer, supplier, employee, investor, government, society and the world. They are our reason for existence and ensure that we enjoy going to work every day.
What does this mean for the customer?
Trust: He who does not honor the small things in life... We always build a relationship. We first create trust by showing what we can do regardless of initial project size.
Help: We will always help our customer with the right services and products. We will always be open, and if necessary refer to one of our partners.Helping the customer is at the core of Dropsolid. Customer happiness or customer satisfaction is measured across the board and continuously improved.
Challenge: We dare to challenge our clients with new ideas and new approaches. We don't just execute what you ask us to do, but actively think along with you and come up with solutions from there.
Grow: The growth of our customers is essential to us. We focus on sustainable growth and self-sufficiency over time. For this, knowledge sharing is essential.
Enjoy: When trust, helping, challenging and growing are in place, both parties create joy in working together. We also take the time to enjoy the results. Building a good business case and measuring the results is essential to enjoy the results afterwards.
What does that mean for our own people?
Trust: We maintain an open relationship with all employees. We make sure that close working relationships and teamwork are possible. Through our talent management tool Intuo, we create a constant feedback loop so that we can work together on solutions.
Help: Our business is built on helping each other - so it also becomes our second nature to help our customers. With our teams working together on strategy, design, build, sales, support and R&D, we know what teamwork means.
Challenge: Our employees are not yes-men. They challenge our customers and the company to do better and better. They also challenge themselves so that they, too, keep getting better.
Grow: Developing talent is very important to us. We organize hack-a-thons, Drupal Gent meet-ups, internal sessions, trainings, Drupal training, ... Generating more value is done by growing yourself. Besides making money, developing our talent is a source of fun.
Enjoy: Getting pleasure from our work comes first for us. It comes from achieving success, developing talent, and then incrementally improving the world.