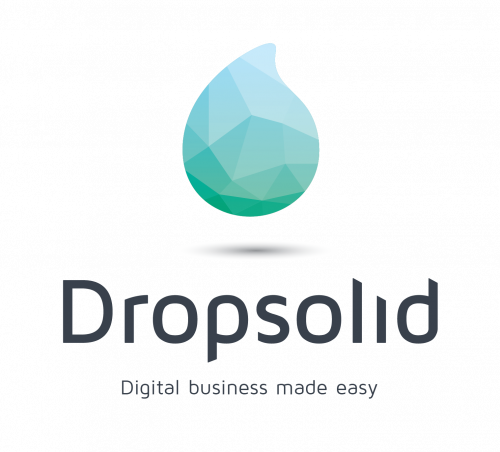 Our services
How can we help?
Dropsolid is a digital business company that helps enterprises with their digital transformation.
Why choose Dropsolid and the Drupal platform?
Faster time-to-market
Increasing insights integrated in an agile approach
Favorable total cost of ownership (TCO) with open source Drupal and agile approach
In short: we make digital business easier
Integrated solutions
It is not about simply getting a website delivered. You will be provided with the right digital strategy that uses the right digital tools, all tailored to your specific business needs.
We share our expertise
The knowledge we gain during our projects is shared within the entire company, to the benefit of all of our clients. We stand on the shoulders of our colleagues. After all: give a man a fish and you feed him for a day, but teach a man to fish and you will feed him for a lifetime.
Business and technology savvy
Drupal enables us to deliver technically exciting features that are custom and made-to-measure. But that's not all. Your solutions will be integrated in a holistic digital strategy aimed at improving your business results.
Focus on service
Similarly to us not just providing you with a website, we will not leave you to your own devices once the website has been finished. We're always there for you to help you realize your long-term strategy. We have a range of tools at our disposal for this, including training for your developers and sharing best practices.
Innovation is in our DNA
Innovation forms an integral part of the digital world. But it also has always been part of Dropsolid. You get the latest solutions or features, because we make sure to follow the latest trends and contribute to the future by innovating ourselves.
Assisting you with digital transformation
Whether your organization has just started with digital transformation or has already made significant progress, we can help you to complete the rest of your journey with our strategic and practical expertise. Bringing your business to the market quickly and effectively.
Trust in Drupal
Drupal is one of the best, if not the best, content management systems available to design websites and manage content. That is why Dropsolid works exclusively with Drupal and has grown into one of Belgium's leading Drupal companies with one of the largest numbers of developers. We have the experience to build what you need!
Contact info
Questions? Give us a call!
+ 32 9 395 02 90
Results
We always put our customers' results first
Scwitch-webtalk
Alle socioculturele organisaties tekenen op 15 juni present voor de Webtalk bij Muntpunt, georganiseerd door Scwitch. Dropsolid-COO Steven Pepermans praat er over digitale platformen. | Meer info
Digital Transformation Summit - Brussel
Op 2 juni vindt de Digital Transformation Summit van Digimedia plaats in Brussel. De CEO van Dropsolid presenteert er over digitale industrialisering. | Inschrijven
Nieuwsbrief
Our clients
We work closely together with a number of clients across different sectors:
Why Drupal?
We facilitate digital business, using an integrated approach.
Drupal development to measure
Development platform & hosting