The American stock exchanges are getting hit and the European stock exchanges are going down even harder. The difference between the old and the new continent? FAANG (Facebook, Apple, Amazon, Netflix and Google-Alphabet).
What can we learn from these tech giants and above all, how can we ensure that Europe benefits more from them? 
Is this the crisis the old continent needs to transform digitally?
The S&P so far dips 13%, where the Stoxx600 and the Bel20 dive more than 20% and 24% respectively. (source: tijd.be)
Why is that? The American stock exchange has FAANG in the ranks that have reached unprecedented heights. European stock exchanges depend mainly on the financial and traditional sectors. Let it be exactly these that are under heavy pressure. This pressure will become even greater if the debt crisis that follows will erupt in all its intensity.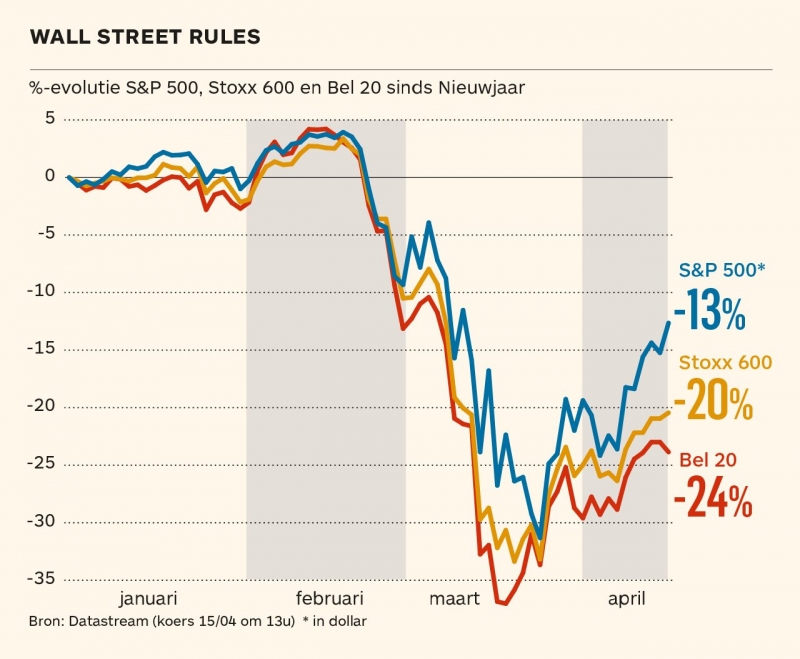 Source: tijd.be
Yet Europe has great opportunities. Despite the fact that the FAANG has no European equivalent, the train hasn't quite left yet.
The services and products offered by the FAANG enable European companies, governments and organisations to build on this even more. They offer platforms on which European tech players can already build their services. However, the real added value lies in the data we generate as Europeans. And that is ours.
The technology sector in figures?
In 2019, 34.3 billion dollars will have been invested in European tech companies. That is 39% more than the previous year. 36% of that investment came from deals worth over $100 million. So the investment rounds in Europe are getting bigger and bigger.
This year, 33 European companies went on the stock market, compared to 29 American companies. Although the companies from the United States have much higher valuations.
The EU also has more software developers than the US: 6.1 million compared to 4.3 million.
(source: trends.be)
Furthermore, it is not only technology companies that can save the economy. It is up to each company to make use of the opportunities and accelerate their digital transformation.
Accelerated digital transformation can help us come out of this crisis faster and structurally more sustainable.
Where are the opportunities?
The trillions (read: trillion = 1000 billion) now invested into the EU economy should go to businesses with a 5 to 10 year horizon and a sustainable vision. If we are smart, we can do things that would otherwise simply be impossible. It is an opportunity to change the core of our economic engine. The old economy had already been brought into disarray by emerging technology.
What if we use those billions to transform our economic engine and transform all our companies, governments and organisations digitally?
Just after the Second World War the same thing happened. The entire infrastructure of Europe was renewed. The government's money was invested directly into the reconstruction. The effect was 5 to 10 years later a revival with a prosperity that even produced the creation of our social system.
With even a fraction of such amounts, it is possible to stimulate our technology sector and create companies that can guarantee jobs and prosperity like the FAANG companies, which are now keeping the American economy strong. If we now dare to invest in companies that think innovatively, think climate neutrally, put data at the heart of their model and think circularly, we can enjoy the benefits within 10 years.
If we invest in companies that make things smarter, more efficient, economical and sustainable, wouldn't that be the strongest investment ever? If the money of the ECB would be used for this purpose, we would stimulate the economy, we would get out of the crisis faster, we would make our production system more efficient and we would create a new system whose costs would not go to companies and citizens.
We use the total power of the whole system to transform ourselves digitally and generate unprecedented prosperity for future generations.
That's not what's happening now
Many companies go into survival mode
Many companies are now putting digital transformation on the back burner. Due to the shock of the crisis, many companies are looking at their budgets and are starting to think even more short-term. Nevertheless, it is important to invest now, so that the chance of being among the winners increases.
Harvard Business School published the article "How to survive a crisis and thrive afterwards?" in which they state that now is the time for companies to invest in digitalisation because the opportunity cost is much lower. Marketing and sales budgets are less effective in times of crisis, so that money can be better spent on digital transformation.
It is also true that if you do not invest now, you may never be able to bridge the gap with your competitors again.
Governments are folding back
Here in Europe, too, we see various governments fold back and show nationalistic reflexes. Alexander Decroo writes on his blog: "Europe will weaken if it is not united". At the same time he is also positive and writes: "This is a difficult situation, but it is not that we are after a war in which the infrastructure has been destroyed or we have lost the high level of education of people. All our assets from six months ago are still there." 
Indeed, all our assets are still there. The figures above show that the EU has more software developers than the US: 6.1 million against 4.3 million. A huge asset that we could play if we accelerated our digital transformation.
 
Start-ups & scale-ups that stimulate digitalisation get into trouble
Last week the start-up and scale-up world made a cry for help. Support our startups is an initiative that was set up to raise awareness that a whole generation of tech startups is going under. Jürgen Ingels calls in Trends to protect the technology sector.
These are companies that will only be able to generate value in decades. These are companies that use data to get started with new business models. These are companies that can secure jobs within 5 to 10 years.
Will the next Google or Facebook be among them? Who knows. Companies such as Spotify, Booking, Deliveroo and the Belgian companies Colibra and Combell also started out as small start-ups. These Unicorns are now worth a few billion euros and will employ a lot of people in a sustainable way.
In the meantime, my own company Dropsolid has passed the risky start-up phase. Had this crisis come a few years earlier, I probably would not even have had the space to write this article because I would only be busy keeping the company alive. In the start-up phase, a company is particularly vulnerable. Cash is limited and not much should happen or it is over.
Luckily we have had positive cash flows in the last 2 years and the company is resilient. We employ directly and indirectly about 70 people permanently over more than ten European countries. The company is growing thanks to the trend of digitization. We enable companies, governments and organisations to create a digital experience that their customers experience as personal. This is thanks to the use of data and open source Drupal (also a Belgian product of origin). We hope to create many more sustainable jobs in the coming years.
That's why I'm convinced that if all those start-ups, like us, get the chance to survive this difficult time, the entire economy will benefit from this.
 
Opportunities… for who?
Companies that invest in customer experience are the winners
A study by Forrester shows that leaders in digital experience generate 3 times more shareholder return during a crisis recovery.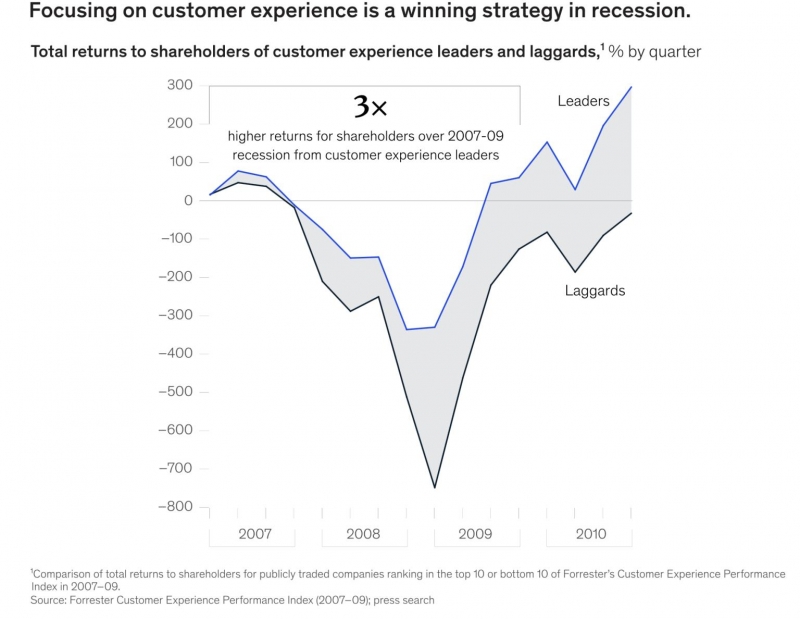 Source: Forrester (thanks to Bart De Waele for sharing on linkedin)
Steven Van Bellegem also states in his presentation on customer experience post Corona that the new customer experience is driven by empathy, digital and taking responsibility. Companies that are able to build a personal relationship with their end customers will come out of the crisis as winners.
Manufacturing companies have a great opportunity
Personally, I believe that manufacturing companies that can connect with their end customers via a digital platform will have a much stronger position in the long term.
The trend of taking the middleman off the sidelines has been going on for some time now. Platforms such as Bol.com, Coolblue and Zalando are unlikely to generate much turnover. The #buylocal story is beautiful but the local e-commerce still lacks the customer friendliness that these companies show. Consumers will sooner or later always tend to the best price/value. And if you think European then these companies are local.
The trend to take the middleman out is irreversible. That is why it is crucial to build and maintain a direct relationship with the end customer. To know who he is, what his behavior is. Belgian companies have long been very loyal to their distribution networks but are now in danger of falling victim to this. Distributors cannot compete with the scale of a company like Amazon. The price and customer friendliness they can guarantee with their scale is unprecedented.
It is an opportunity for the creators to sell through the big platforms. In order not to be completely dependent, it is also important to develop direct relationships with their end customers through their own channels.
Existing companies have to transform
Virtually all existing companies can transform themselves digitally. In fact, any company can learn from the FAANG. What made them so strong? They unite customer experience, operational excellence and product innovation. One of the holy houses of any business school that these 3 cannot be united is disproved by these tech giants.
How is it possible? By using data intelligently they create a hyper-personal experience. Satisfaction rises which increases the life time value (total value of a customer) of their customers. By deploying technology correctly, they create scale with unprecedented operational excellence, resulting in ever decreasing marginal costs. Because of their scale and satisfaction, the acquisition costs (the costs to acquire new customers) are also getting lower. This gives them large margins, which they can then reinvest in product innovation that in itself also gives the customer access to the latest innovations. An upward spiral that spoils the customer at prices like never before.
Actually, any company could become a bit FAANG. How? By investing in its own platform that is able to use customer data correctly so that each customer can be approached efficiently and personally.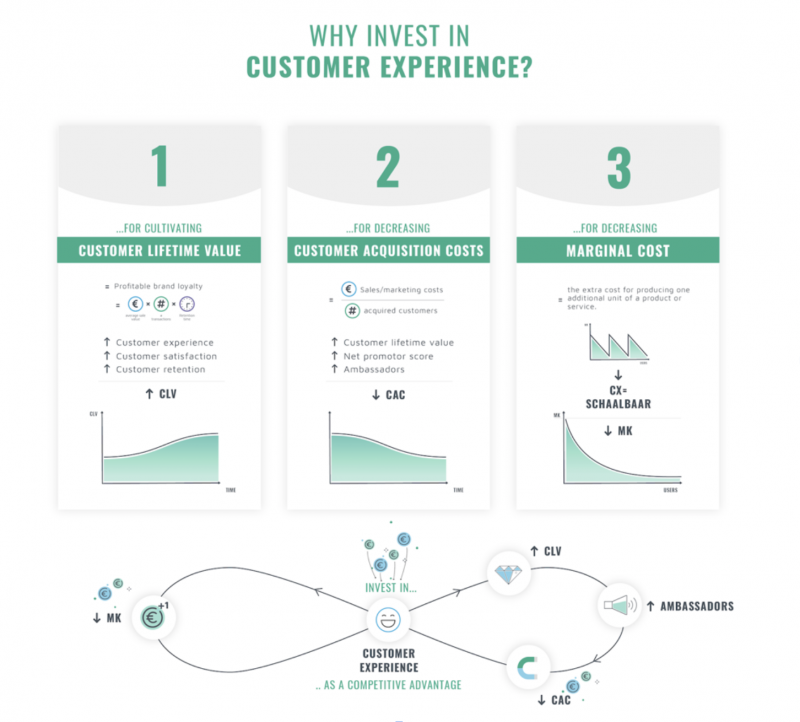 Member organizations see the digital opportunity
Many member organizations are now falling back on their core: informing their members. The events they are used to organize are all digital. Spreading information goes completely digital.
More than ever, member organizations are crucial because they can represent their members with one voice to the authorities. 
Organizations that can serve their members via a digital platform and give them access to essential and relevant knowledge and information currently retain their relevance.
Many organizations are now forced to discover the added value and opportunities of digital. They realize that expensive events with catering might not generate the sustainable added value they thought they had. They see that investing in a platform in which they can serve their members quickly and easily with relevant content can mean long-term added value and better member loyalty.
Open source as the engine of the digital transformation
Dries Buytaert writes in his blog post "Is Open Source recession-proof?" that open source performs very well in times of crisis. The reason is because these open source communities are not driven by commercial interests but by a common higher goal of making things better. During a recession, organizations look for software that costs less and where they have control over their own course. In other words, doing more with less.
I believe that open source will also form the foundation of this digital transformation. Open source will be the only way to make the gigantic digital transformation affordable and sustainable. All companies, organizations and governments that invest now and bring in open source will benefit from this for years because they are free and evolve with the speed of the entire digital community.
 
Let's turn the tables
Instead of rescuing the old economy and increasing the debt burden of both government and companies that were already struggling, it would be better to save our new economy together with the companies and organizations that were already in the process of transformation. This way, in 5 to 10 years we will have better prospects than just the debts of the past.
Let's invest in companies and organizations that have a sustainable and long-term business model. We can no longer continue with the idea that more and more will be consumed. There is a limit to how high the trees can grow. Let's invest in making things smarter, more economical and more sustainable, and in companies that can permanently contribute to our welfare.
Let this be the impulse to move the money from Europe to digitization so we get something in return for our money within 5 to 10 years.
One trillion euros for the digital transformation of all smart businesses, governments and organizations. Imagine.
About the author: