You've probably heard what the fuss is all about: after the new iOS 14.3 update, Apple is switching from an opt-out to an opt-in system. Instead of indicating that data is being collected, they are changing to asking for permission to collect it. What exactly does that mean? As long as the Apple user does not accept this opt-in after the iOS update, the Facebook Pixel cannot be used on that device anymore.
Panic in the marketing circle?
Well, a little bit. For the following reasons:
Say goodbye to measuring your conversion, remarketing and pixel based audiences.

When your pixel is no longer triggered, due to the automatic opt-out, you can no longer retarget these users through the Facebook pixel.
iPhone users make up for about 30% of mobile users on social media. The reduction of retargeting ads will therefore logically also decrease. This also applies to targeting based on a pixel. Just think about Google Display ads, the LinkedIn Insight tag, a retargeting pixel...   

The performance of conversion ads will decrease.

Facebook ad conversion tracking already took a punch. Tracking is inaccurate and delayed. So now the Facebook algorithm can't optimize your ads either.
But, there are solutions!
Measure your conversions
Your custom conversions will soon be limited to a maximum of 8 per domain. Based on your activity, Facebook first configures the events that are most relevant to your business. The others? Those will be set as inactive. You can, however, customize them and manage your preferences via 'event management'. So when you create a new ad set, you choose one of your 8 conversion events to optimize for.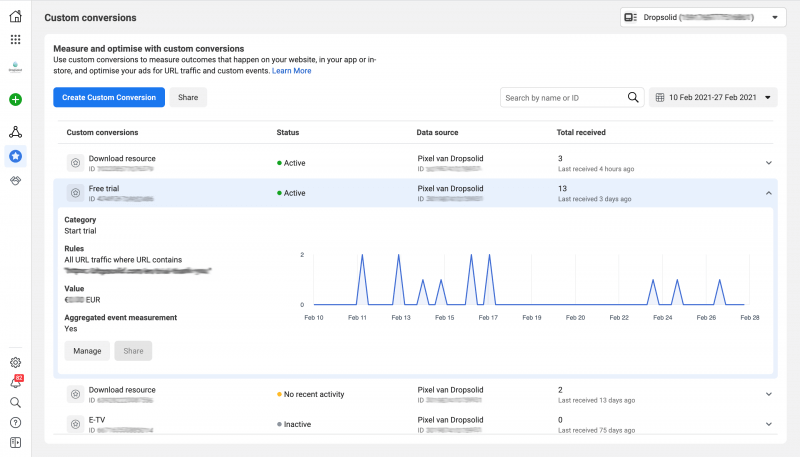 Use the conversion API
Through this Conversion API you measure events directly from your server and send them to your pixel. This does not replace the Facebook Pixel, but it does give you an insight into how many conversions are taking place on your website and so the algorithm continues to work in your favor.
You have to make some technical adjustments for this:
Validate your website domain
Set up the conversion API
Verify your domain
Via 'Brand Safety' in your Business Manager you can easily verify your domain. For this process Facebook wrote an easy step-by-step plan.
Remarketing via a workaround
Retargeting ads can be very helpful, so we came up with some solutions: 
Lead ads with Facebook forms
You can retarget on these if you link them with the Facebook Conversion API. For example, if you ask for an email address in your form, you can perfectly redirect it to the API.
Instant experience ads
You can also perfectly retarget these.
Need help setting up your Facebook Conversion API, choosing your 8 conversion events or get started with retargeting your audiences?