Can you imagine having it all? Complete freedom, splendid ease of use, and a fast way of working. Well, you can have it all! We're a proud contributor of the new Drupal Layout Builder. And that's not even all of it. We included it in our open install profile 'Rocketship'. Interested? Read on!
Would you also like to increase your internal efficiency? Discover potential savings for your company by improving the internal efficiency of digital projects. Answer a few questions, and we'll calculate your ROI.
It's been quite a journey...
Drupal has existed for over 20 years now. Just like all other technologies, it has evolved. Quite a lot actually. We'll show you:
Content types and (custom) fields
Every content type (for example 'event', 'page' or 'blogpost') can have different fields (for example 'title field', 'description field'' or 'custom field'). The amount of fields on drupal.org is incredible. Also, Drupal has always been very extendable from early on, so custom fields are also possible. For example, a field that links to your specific system or integration.
Content types are fast. But you don't have a lot of freedom in your layout and the UX is outdated.
Dynamic content with paragraphs
A logical evolution was that content editors wanted to create 'immersive reads'. In other words, the mix of textual content with videos, images, and other rich content from the site. Paragraphs were a winner at the time. Editors could now add a paragraph field to a content type and put any kind of content in the preferred order to construct a page.
A paragraph can consist of a number of fields. At Dropsolid, we grouped the most commonly used paragraphs in our Rocketship Install Profile. This way, our clients can create dynamic content very rapidly.
Dynamic content is flexible. And you have a lot of freedom in your layout. But your UX is still not optimal, and re-use is cumbersome.
Inline editing via Gutenberg
Via the Gutenberg editor you can edit your content inline. It was implemented in Drupal, and you can try it yourself.
Gutenberg is flexible. The UX is also pretty good. But, there are still a lot of limitations that keep us from long term commitment.
Quick edit
Quick edit also allowed for inline editing. Unfortunately, it didn't work as expected. It came in core but seems like it will soon move from core to contrib and won't be included anymore.
While Drupal is evolving in the right way, apps like Wix and Tumblr have set the bar of UX pretty high. So, action was required!
The future starts here: Layout Builder
Wouldn't it be great if we could combine a splendid UX with power and flexibility for ultimate editing power? Yes, of course! That's exactly why we're proud to introduce Layout Builder in Drupal. It combines structured fields with re-usable layout templates and the possibility for full layout freedom via template overrides.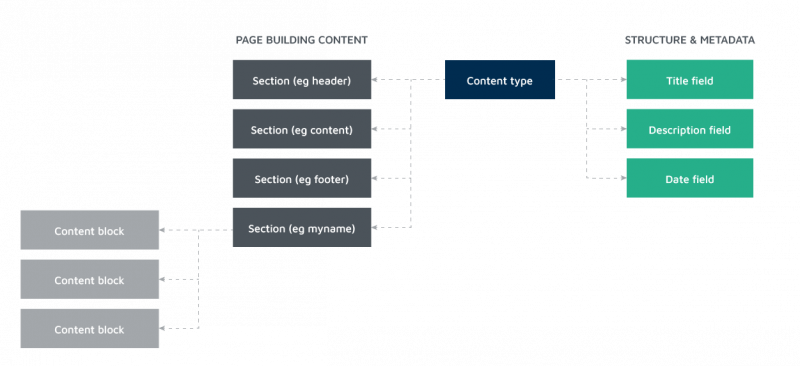 What does this exactly mean for content editors?
A lot more power, flexibility, and freedom
Full control over both the layout and structure of the pages and content types
Managing content and layout separately from structured fields
Content types (like 'event' or 'webpage') can have structured fields (like 'date' or 'location')
Sections that contain building blocks can be added to layout pages
Content types can have layouts, so you don't have to recreate the layout for every new content.
Content editors can create layout templates consisting of sections and building blocks for fast re-use. Re-using templates allows for editing, for ultimate flexibility.
Our contribution and the integration into Rocketship
Dropsolid contributed to the new Drupal Layout Builder, and we've included it in our open Rocketship Install Profile. Why? We're strong believers in the revolutionary layout builder. It matches perfectly with our open DXP vision for creating compelling and personalized digital experiences. It allows developers and marketers to co-create, the time to market is significantly faster and you have all the freedom and flexibility you need.
Your turn to test the Layout Builder
Give your content editors the power to easily create incredible, personalized digital experiences and let them try out Drupal Layout Builder.