Today's SEO is about more than quality content. You need to provide a user-friendly experience that keeps visitors engaged. Getting it right with Drupal involves many well-known modules, but also some lesser-known quirks and pitfalls you can — and should — avoid.
In our recent talk at DrupalCon Amsterdam 2019, Brent Gees and myself discussed how to discover issues that affect ranking factors with your Drupal site. We also demonstrated how to fix these problems and prevent them. The main purpose of all these changes isn't just about improving search engine ranking. It's also about improving the experience for visitors that keeps them coming back.
Watch the Webinar and learn about Great SEO in Drupal by Default, by Dropsolid.
Speakers: Wouter De Bruycker, SEO Specialist, and Brent Gees, Drupal Architect.
Overlooked Drupal SEO pitfalls
In refining the out-of-the-box SEO functionality of our install profile, Dropsolid Rocketship, we discovered there are so many strange ways Drupal configuration can harm organic search positions, depending on how you use it. 
Here's a simple example of how we're improving SEO by design and preventing lots of the potential pitfalls right from the start while delivering a better user experience in the process. Drupal has a habit of generating nodes that are publicly available by default, even if these separate pages don't really make sense. A taxonomy term used to categorise news items would result in a separate page for each category. And these pages aren't always useful endpoints for users. In Rocketship, we resolved this by auto-redirecting the user to a filtered news overview, based on the category that they clicked on.
Next, let's look at another issue that's quite common and how to resolve it.
The GDPR v Cookies red herring and how to avoid it
Accurate analytics are crucial for optimizing search engine positioning. We noticed an issue across a number of client websites where there was a big traffic spike on Google Analytics. Yet, something looked rather suspicious. The number of unique visitors increased, but it was all direct traffic. They weren't coming from search and they weren't referred from another link.

Search engine optimization is an on-going process of monitoring and managing your sites to prevent issues from affecting SEO ranking factors. You don't want to wait until you conduct a Drupal site audit to discover a cornerstone page is dropping in SERP position (Search Engine Results Pages). 
We figured out it all started with an update to the EU Cookie Compliance Module to ensure it complied with the latest GDPR regulations. 
Here's what was happening: if the users continued to browse the website, without accepting the cookie settings, they continually looked like NEW users. Cookies were cleared on each new page request, which caused Google Analytics to create new cookies on each page view as if it was a fresh visit. In short: 1 session of 10 page views suddenly resulted in 10 sessions of 1 page view each.
We solved this issue by whitelisting the Google Analytics cookies AND modifying our Google Analytics tracking setup so IP-addresses are anonymised. By anonymising the IPs we comply with GDPR regulations and by whitelisting the cookies we don't lose valuable session information on each pageview.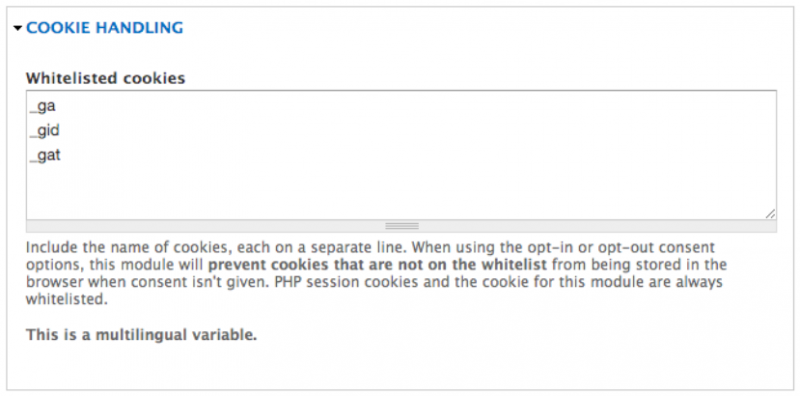 The new changes in the module required you to make this correction, but if you didn't realize the change happened… it's one of those small issues that would cause a lot of trouble for anyone who needs accurate analytics. Among the hundreds of other modules that you might be using across many client or project sites, these small snags could turn into poor-quality data, false conclusions about cause and effect, and hours of wasted effort.
To the moon with Dropsolid Rocketship!
After years as a developer building websites, my interests started veering more to the strategic side with customers. Issues with search engine positioning came up with every customer. They had great websites, but no visitors. I enjoy working on these problems because you can see the results quickly. It shows up in their analytics but also in increased business opportunities and leads, and return on their investment.
Dropsolid Rocketship helps our developers to be more effective. There are a lot of small things that make a difference, and having them built right into Rocketship means you don't have to start from scratch each time. This eliminates errors and makes project execution faster. Now we have more time to focus on SEO strategy with our customers.
The Dropsolid Rocketship install profile includes the essential features most of our sites need. The sites are set up right, right from the start, eliminating the chance for human error. We're making it more user-friendly on the front end; giving it a better developer experience in the back-end and at the hosting level. Meanwhile, Rocketship improves the experience at the point where many potential customers will discover you: visiting from a search engine.
This holistic perspective is part of our vision on integrated Open Digital Experience Platforms that our CEO, Dominique De Cooman, introduced at DrupalCon Amsterdam 2019. If you missed out on his presentation, you can always watch it online together with all other talks by our Dropsolid specialists
SEO pitfalls in Drupal and how to avoid them
Watch the recorded webinar
Download the e-book