Starting in 2021, Google started looking at 3 new factors to determine the position of your website in the Google search results on mobile. From February of 2022 onwards these factors were also relevant for desktop rankings.
In this article you will discover which SEO factors are involved and how to optimise your website.
Last update: 28th of February 2023
Index
What are the new SEO factors (Core Web Vitals)?
The new SEO factors (which Google announced in May 2020) are summarized under the heading Core Web Vitals.
Core Web Vitals are metrics that measure the quality of your user experience (UX).
They indicate whether these UX-factors are good or bad and whether they influence your position in Google positively or negatively.
When did Google start taking the Core Web Vitals into account?
Google started in May 2021 with the rollout of the Core Web Vitals in the mobile ranking algorithms.
Update 18/01/2021: John Mueller (search advocate and webmaster trends analyst at Google) confirmed the rollout of these new page experience signals will be a global update at the same time.
Update 3/12/2021: Google announced it will start the rollout of the same Core Web Vitals (LCP, FID, CLS) for desktop search results in February 2022.
What are the components of the Core Web Vitals?
The Core Web Vitals (currently) consist of three components:
Let's explain them in human language...
LCP
LCP is short for Largest Contentful Paint and measures how quickly the largest (initially visible) element on your web page is loaded.
FID
FID is short for First Input Delay. It indicates how quickly a page is "usable" and responds to user input (time to interactive).
CLS
CLS is short for Cumulative Layout Shift and measures the visual stability of a web page.
An example of a low visual stability is a page in which parts of the page move from one place to another as soon as other elements (such as images) are loaded.
What are the Core Web Vitals not?
Core Web Vitals are not a magical solution for all your SEO problems. A good score will not automatically lead to a top ranking in Google search results.
The Web Vitals are part of a broader picture and come on top of other SEO factors such as authority, content and general technical setup of your website such as https and responsiveness. (read more about the basics of your SEO)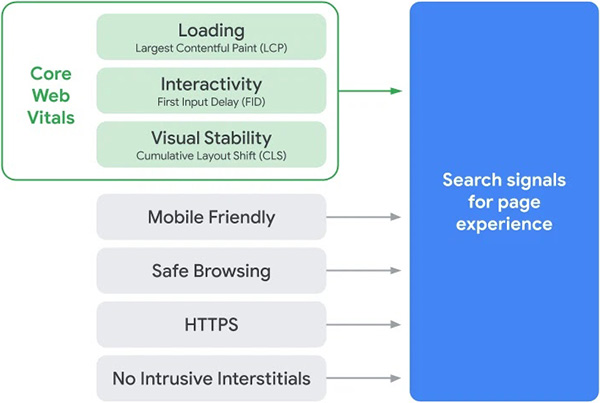 Image: Page Experience SEO signals (source: Google Search Central)
Will the Core Web Vitals change in the future?
No doubt. The current UX signals are not set in stone and will certainly be expanded in the future.
"To improve our understanding of user experience going forward, we expect to update Core Web Vitals on an annual basis"
Ilya Grigorik, Google Web Performance Engineer
Not only could Google add new metrics in the future (next to LCP, FID, CLS), the importance of each metric can (and will) change as well.
Specific examples of how the Core Web Vitals already evolved:
2021: In Lighthouse 6/7 the CLS score amounted to 5% of the total performance score. In Lighthouse 8 (launched on 31/8/21) this increased to 15%. Having a visually stable website has become even more important.
2022: On Google I/O (a developer conference) Google announced in May of 2022 that it launched a new experimental performance metric called Interaction to Next Paint (INP for short) (2)
2023: The importance of the CLS metric goes up once again in Lighthouse version 10. The weight of the metric in the total performance score goes from 15% to 25%.
How do you check the Core Web Vitals yourself?
There are several possibilities to easily check the Core Web Vitals of your pages yourself.
Depending on your job function you will be best served with the tools below:
Webmaster? Check the Core Web Vitals report in your Google Search Console property
Content editor? Test your page via Googles PageSpeed Insights tool
Developer? Then you probably want to use the Chrome Lighthouse plugin.

Thanks to Lighthouse you can even see how much influence each factor has on the final Performance score.

Screenshot: Lighthouse detail view of the Performance score
For everyone else: Google PageSpeed Insights is the mosteasy-to-use tool to get a high-level overview of your Core Web Vitals score.
How to improve the Core Web Vitals of your website?
There are a lot of different ways to optimize the Core Web Vitals of your website.
Listing them all here would be unnecessary, because Google itself has already written some excellent articles about them.
Consult the links below for an in-depth technical explanation of...
Not familiar with development and optimization?
Get in touch with us if we can have a closer look at your website.
Why is this important for your website?
New ranking factors mean you might have to technically update your website to be in line with these new requirements.
Google also confirmed it will be running experiments with visible labels on the search results page, to highlight pages that score well on these new SEO factors.
"In addition to the timing updates described above, we plan to test a visual indicator that highlights pages in search results that have great page experience." (1)
Icons or badges like these could definitely improve the click-through-rate to your website (or the CTR may decline if your pages perform badly).
What will the impact be of bad Core Web Vitals?
Up until Google introduces the Core Web Vitals we don't really know what the actual impact on organic rankings will be.
However, if we take a look at earlier Google updates (like their advice to always use HTTPS instead of HTTP) we can assume the impact of Core Web Vitals will probably be rather limited for most verticals.
Let's take a look at two practical examples...
Example 1:
Is there a lot of SEO-competition in your vertical and is the fight for top organic positions hard? Then you should make sure your Core Web Vitals are in good shape. In cases like these they can be the differentiating factor between you and your competition.
Example 2:
Is the SEO-competition so-so, or did you notice all your organic competitors have bad Core Web Vitals themselves? Then your organic visibility will probably not change all that much.
It's all relative... if none of your competitors are paying attention to these new SEO-factors, you probably shouldn't worry about suddenly losing a big part of your organic traffic.
But...
SEO is not the only reason why you should pay attention to the Core Web Vitals!
Improving your website UX (which you can measure via the Core Web Vitals) will definitely have a positive impact on your conversion rates.
A happy website visitor which isn't frustrated because of slow loading web pages or elements jumping around on a page will convert much more easily. Makes sense, right?
In summary
What the Core Web Vitals measure (UX signals) is not completely new.
Improving the user experience of a website is something that has been happening longer than today, but Google is now making it more concrete (and more important) than ever.
The reason for this is two-fold:
The proportion of mobile internet users is still growing, which means the loading speed remains extremely important.

Even though the Core Web Vitals apply to both desktop and mobile, the emphasis is on mobile internet users (as they usually surf at a lower speed).
 

More and more content of very good quality is appearing online every day. With very similar content, the user experience can be the distinguishing factor.
Because of this new emphasis on technical factors, it is now more important than ever to let developers work closely with SEO specialists to find the right future-proof solution.
Want to know more? Have a look at our SEO services or contact us for a free brainstorm session or a complete Core Web Vitals audit.
Sources:
Timing for bringing page experience to Google Search - Google Search Central Blog - https://developers.google.com/search/blog/2020/11/timing-for-page-experience (18/1/2021)
Google I/O 2022: That's a wrap! - Web.dev - https://web.dev/googleio22-recap/ (28/7/2022)